2001 | 108min | Color | USA Drama-Comedy
An estranged family of former child prodigies reunites when one of their member announces he has a terminal illness.
DIRECTOR
Wes Andserson
SCREENPLAY
Wes Anderson, Owen Wilson
CAST
Gene Hackman, Anjelica Huston, Ben Stiller, Gwyneth Paltrow, Luke Wilson, Owen Wilson, Danny Glover, Bill Murray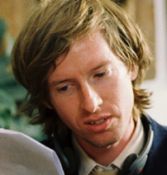 OSCAR NOMINATION
Wes Anderson, Owen Wilson (screenplay)
BERLIN FILM FESTIVAL
Wes Anderson Nomination (Golden Bear)
REVIEWS
"With a distinctive visual style that steers clear of the gross plagiarism of many post-Tarantino thirtysomething directors, Anderson sets himself apart from most of his contemporaries. His work is as refreshing and visually inspiring as any Coen brothers' film and restores faith in the idea that Hollywood can still produce an idiosyncratic black comedy once in a while."

--
Peter Homden (Contemporary North American Film Directors, 2002)
IMPRESSIONS
This film changed my life, and it confirmed my desire to become a film director. I have watched it so many times it's ridiculous.
Narration |
Non-diegetis voiceover functions as a form of direct address, and allows Anderson to offer explicit commentary on the image.
Costume |
The three Tenenbaum children where the same clothing when they're adults as they did when they were growing up - humourously suggesting their arrested development.
Ritchie (Luke Wilson), the tennis prodigy, wears tennis sweatbands.


Margot (Gwyneth Paltrow) wears a fur coat.


Chaz (Ben Stiller) wears a tracksuit all the time and dresses his two sons the same way.
Speech |
Ben Stiller talks in quick bursts, suggesting the characters' hysterical anxiety. Woody Allen does the same thing.
Music |
A lot of the music in the film has vast cultural significance. After Richie Tenenbaum unsuccessfully attempts to commit suicide, Nick Drake's recording of "Fly" plays softly in the background. The fact that Nick Drake commited suicide himself adds poignancy to the scene beyond the melancholy of the actual tune itself.