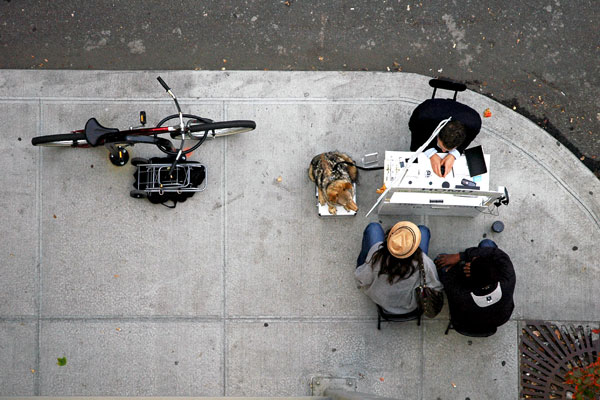 Hmmm. It's the
Homeless Museum of Art is a New York
initiative, which moves around the city in their very elusive booth. Honestly, I am a fan if the oh-so-nouveau art booth complete with director. On the other hand it oozes New York philanthropic chic by also exhibiting homeless modern art it in brightly lit, stark white galleries. And the collections themselves feel like they're just stepping back in time to Andy Warhol mode. Really, jello boxes? However, some pieces are interesting. Check out some of their
recent acquisitions
for yourself.
My favourite art gallery that I've ever been to, even above the Louvre, Prado, Uffuzi, et al.,would probably be
Kunsthaus Tacheles
, which is Berlin's not-so-secret art squat. It sits in the old Jewish quarter of East Berlin and takes it's name from the Yiddish for truth. Originally a department store, it was occupied by a collective of artists in 1990, two months before its planned demolition, and has been a cultural hub ever since.
"A building with a storied history—it started out as a kind of proto-shopping mall in the early 1900s, was taken over first by the Nazis, then by the Communists. And when the Berlin Wall, once located just a few blocks away, came down, the building became the home to a host of German and international artists, many the sons and daughters of Communist revolutionaries from Cuba, the Soviet Union, and China. Today, the building has the outward appearance of disuse—a bomb-pitted facade of gray stone covered with graffiti, stencil art, and stickers, and windows darkened from the inside by more graffiti. But inside is a vibrant, diverse, anarchistic (i.e. leaderless) art community. The building hosts a cinema, a performing arts space, 30 studios (made available to artists, who are selected by an outside curatorial panel, for only the cost of utilities), two indoor and two outdoor bars, exhibition spaces, two galleries facing Oranianburger Strasse, and a high-power projector that screens video art on an adjacent building every night of the week. Artists from Japan, China, the Middle East, and the UK, among other places, curently occupy the studios; probably Tacheles' most famous tenant is recording artist Peaches, who's been there for two years."

- From Eyeteeth
Anyway, went there at the end of 2007, and it's always stuck in my mind.